Create a Branded Resource Library For Your Organization In Minutes
Create a secure resource portal without the need for a development team. You can have a branded, professional content library where you can organize and display files. Your documents, videos, and links can become a valuable resource where you can invite your clients, vendors, volunteers, customers, or partners.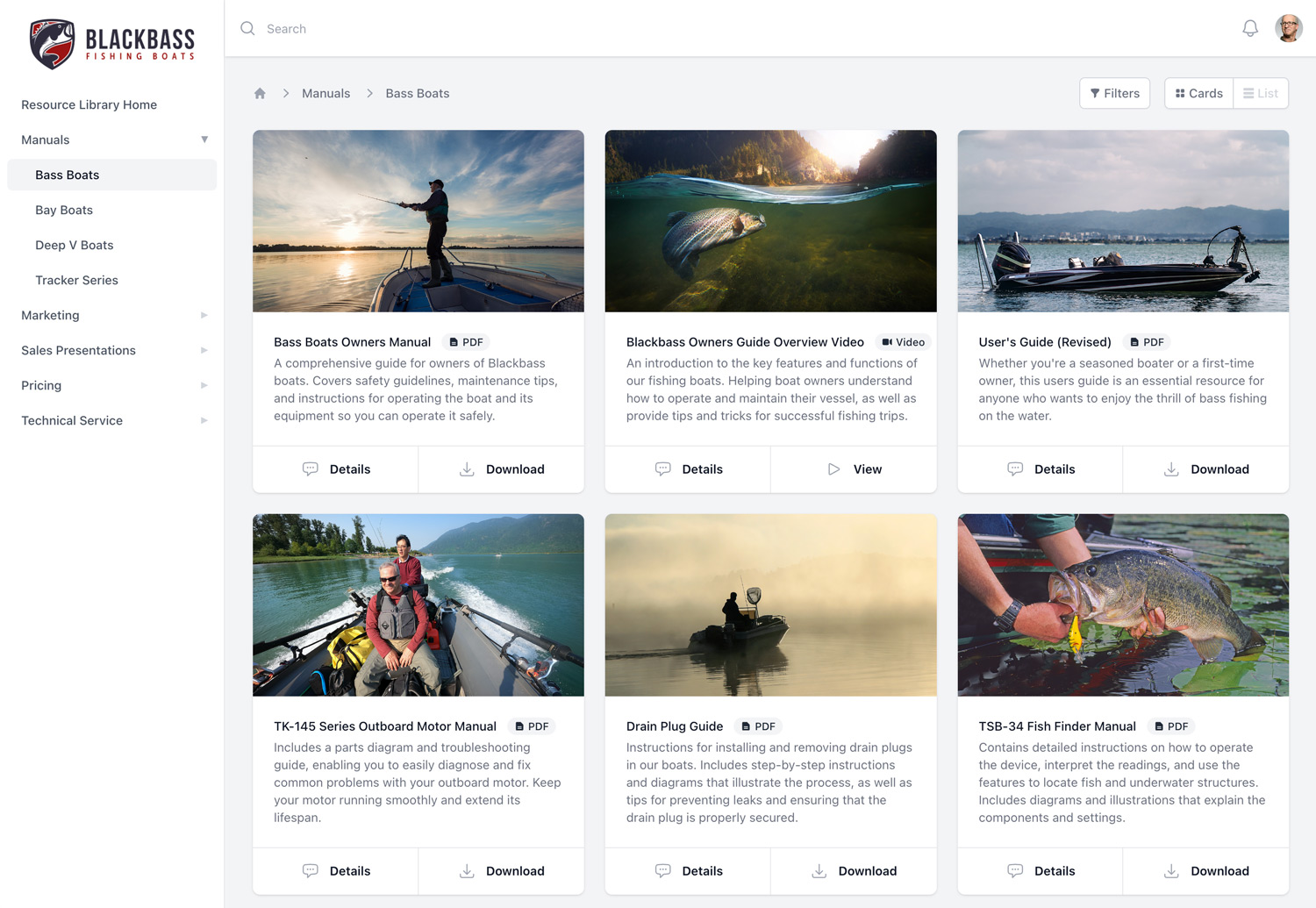 Share with confidence
A secure document library without a fuss
You need your documents to be secure and you need to distribute them easily and professionally. That's what we are all about.
Effortless Search

Amazing advanced search capability out of the box, type ahead results and incorrect spelling fuzzy matching.

Secure Documents

WordPress and other solutions can leave your documents vulnerable to being found by Google or anonymous users.

Document Analytics

View reports of popular document downloads by users and which categories are accessed the most.

User Groups

Segment your users into groups and give them special permissions to view only certain documents.
Pricing
Pricing plans for organizations of all sizes
Our flexible pricing allows you to start your content library small and grow with us as your needs expand.
Starter
The essentials to get your library started.
$59 /month
Up to 500 users
Up to 1,000 documents
Up to 25 videos
Basic analytics
48-hour support response time
Buy plan
An ample amount for most libraries.
$119 /month
Up to 1,500 users
Up to 2,500 documents
Up to 100 videos
Advanced analytics
24-hour support response time
Buy plan
Premium
More than enough for large content libraries.
$199 /month
Up to 3,000 users
Up to 5,000 documents
Up to 250 videos
Advanced analytics
24-hour support response time
Buy plan
Frequently asked questions
Can we control who can log in?

Absolutely. You have complete control by inviting members to create a login name and password on your portal or adding, editing, or deleting them as needed.

Can we restrict certain content to only some members?

Yes, you can create groups of members that have special permissions. Each resource has permissions for what groups are allowed to view it, and each member can be a part of one or multiple groups.

Who is this for?

Organizations that need to share documents and resources with groups of people outside of your organization in a professional branded way. This could be providing your customers with helpful manuals and videos. Or equipping salespeople with spreadsheets and presentations. Or supplying training materials to volunteers.

Can we create a publically accessible document library?

Not yet. We are focused right now on offering the best secure client portal, though we may add that functionality at a later time.

Can we use our own domain name?

Not yet. Right now you will be assigned a subdomain like company.getresourcefully.com. The ability to use your own domain is functionality we will be adding soon.
Start your resource portal today.
Don't spend months and hundreds of developer hours reinventing the wheel. Our resource library software gives you the ability to spin up a content portal quickly and easily.